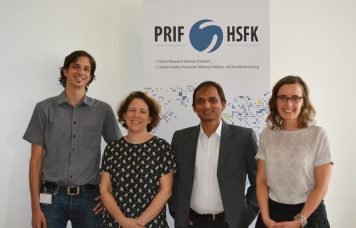 After participating in our Special Issue Authors Workshop on the topic of "Democracy Promotion Negotiation" on May 18-19, Prof. Andrea Ribeiro Hofmann (Catholic University of Rio de Janeiro, Brazil) and Dr. Prakash Bhattarai (Centre for Social Change, Nepal) remain at PRIF as visiting experts for about two weeks. During their stay with us, they are focusing on their contribution for the network's planned special issue.
Andrea is a professor of International Relations at the Catholic University of Rio de Janeiro. She has a PhD in International Relations from the University of Tübingen and was guest teacher and fellow at the International Relations Department of the London School of Economics (2008-2010), visiting professor and lecturer at the University of Erfurt (2010-2012) and the Freie Universität Berlin (2012-2015). In her research Andrea focuses on international organizations, legitimacy and democracy at the global level and regional integration in Europe and Latin America. She will join us from May 17 – 27.
Prakash is currently acting as president of Centre for Social Change (CSC), a non-profit research and advocacy institute based in Kathmandu, Nepal. He holds a PhD in Peace and Conflict Studies from the University of Otago, New Zealand and MA degrees in Population Studies (Tribhuvan University, Nepal) and International Peace Studies (University of Notre Dame, USA). Prakash's major areas of research include nonviolence, peace governance, migration, and shrinking civic space.  He has been a visiting research scholar at the Department of Peace and Conflict Research, Uppsala University, Sweden (April-June 2013). Prakash will be staying with us from May 17 – June 1.
Their research angle fits perfectly into the network's focus on interaction in democracy promotion and specifically with regard to our planned special issue.
We are happy to welcome both experts on board and are looking forward to a fruitful and interesting cooperation!